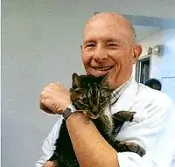 Associate Veterinarian
Dr. Burgard has over 40 years of veterinary medical and surgical experience. Dr. Burgard has attended Colorado State University, Columbia University and obtained his Doctor of Veterinary Medicine degree in 1969, from the College of Veterinary Medicine, Tuskegee University, in Alabama.
Dr. Burgard also served his country in the US Army Veterinary Corps. He completed a one year small animal residency at the ASPCA Henry Berg Memorial Animal Hospital, in New York City.
Before coming to Florida, Dr. Burgard, worked in California and New Jersey. Dr. Burgard owned and operated Caladesi Animal Hospital, in Dunedin Florida, for 30 years. Dr. Burgard is not only licensed in Florida, but he also maintains licenses in North Carolina, Alabama, New Jersey and California. He is also accredited with the USDA and is authorized to perform Health Certificate examinations and is prepared to perform duties, if needed a in an animal disease outbreak.
Dr. Burgard is married to his wife, Peggy, and has two children, Florie and Jessie. Florie is a Physical Therapist and Jessie is a Psychologist and administrator for the Veterans Administration. Frank and Peggy have five grandchildren.
Dr. Burgard's interests are music, photography, sailing and tennis.