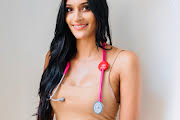 Dr. Samnani is a 2020 graduate of St. George's University where she attended Cornell University for her clinical year. Dr. Samnani was born in Hanna, Alberta, and raised in Calgary, Alberta. She moved to St. Petersburg, Fl to join the team at Gateway Animal Hospital.
Prior to attending veterinary medical school, she attended the University of Calgary where she obtained her undergraduate degree in Biological Sciences. Dr. Samnani is an active member of the American Veterinary Medical Association (AVMA), Florida Veterinary Medical Association (FVMA), the Pinellas County Veterinary Medical Society (PCVMS)
Dr. Samnani has a special interest in Radiology and one day hopes to pursue a residency in radiology. Outside of work, Dr. Samnani enjoys traveling, music, interior design, fashion, nights out with friends, cooking, spending quality time with her family, and movie nights. At home, Dr. Samnani has a sweet little corgi chihuahua named Bella.